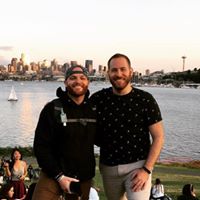 Challenge
Challenge of the Week CLXVIII
In Sickness and in Health. Fiction or non-fiction, poetry or Prose.
Astoria
Many years later, long after Joe had gone, Isaiah would often think back to that sultry summer morning in Astoria, where at the bustling intersection of 30th Ave and 36th Street, Joe told Isaiah that he loved him for the first time.
They were seated on plastic lawn chairs outside of a local coffeeshop, sun beaming down so as to beckon beading sweat above the brow, the both of them just beginning to indulge in their favorite neighborhood rations: homemade strawberry muffins and black iced coffee. In fact, Isaiah had just stuffed a particularly large piece of muffin into his mouth, which required him to take a long sip of his iced coffee to wash it down, when Joe, who was staring with that familiar pensivity at Isaiah as he struggled to gulp down the hefty mix of muffin and coffee, said aloud with calm assertion: "I think I'm in love with you." After a quiet pause between them, Isaiah told Joe, "I think I love you too." From this moment onward, whenever Isaiah said, "I love you," he would taste the bittersweet afternotes of strawberries and coffee.
Joe and Isaiah decided shortly thereafter to uproot from their respective homes in Brooklyn and move to Astoria, signing a lease to a rickety old studio atop a 4-story walk-up. Despite the suffocating limited space in the apartment, both Isaiah and Joe were determined for their home to breathe life: they threw parties, hosted game nights, and cooked meals for their closest friends. Joe was a self-proclaimed movie buff with a predilection for horror films, and he managed to coax Isaiah into hosting screenings of the classics on a monthly basis for their friends and neighbors. While Isaiah was initially averse to the jump-scares and gore, he grew more fond of the genre over time, and ultimately learned to share the similar sense of joy that viewing these films brought Joe.
Isaiah's proudest contribution to the apartment was a sprawling collection of vinyl albums and his father's old record player. On the quieter weekends spent at home, Isaiah would play a new record for Joe, and talk Joe through the historical significance and legacy of the album. While Joe never developed an ear for the classics, he did develop a fondness for more contemporary music. Joe's favorite record was Vampire Weekend's self-titled debut album. The first time Isaiah played the vinyl in their apartment, Joe pulled Isaiah up off of the ground and began to dance with him to the perky keyboard on Mansard Roof. By the time Oxford Comma started to play, they had already begun to make love. From this moment onward, whenever Joe said, "I love you," he would hear the whirling, summery tempo of keyboard and guitar.
Things carried on like this for a few years, both Joe and Isaiah sharing all of their favorite parts of life with each other, expanding one another's understanding of film, music, art, and literature in order to build an even deeper understanding of one another, and in turn, preserving the unceasing momentum of their love. With time, neither Isaiah nor Joe could imagine their life without the other in it, and so they decided to get married in a quiet ceremony attended by their immediate family and friends.
Shortly after the wedding, Isaiah suffered a gradual series of misfortunes: his only brother passed away abruptly after a short battle with cancer. He was laid off from his work as an art director at the advertising agency he worked at after nearly a decade. Following these two brute force major life changes, Isaiah slipped on black ice and suffered a broken arm and concussion. Through all of these difficulties, Joe worked hard to be a constant source of support for Isaiah - he would make Isaiah dinner most nights of the week, take Isaiah on dates on the weekend, and invite over Isaiah's close friends and old colleagues for lively evenings together to lift his spirits.
But a spell of helplessness seemed to take a stronghold over Isaiah: these compounded tragedies left him feeling sad and dejected. He soon began to feel terrible abdominal pain anytime he left the apartment. Finally, one morning the abdominal pain became so debilitating that Isaiah couldn't get out of bed. Joe sensed a crisis unfolding. He carried Isaiah on his back all 4-stories down their apartment complex and hailed a cab to Isaiah's general physician. After some bloodwork and medical tests, the doctor diagnosed Isaiah with an anxiety disorder, and referred Joe to a psychiatrist who could help Isaiah navigate this tumultuous mental health episode.
A psychiatrist experimented with a multitude of medications on Isaiah, but some of the medicine caused Isaiah's symptoms to worsen. The abdominal pain became so severe one week that Isaiah began refusing meals. He was also losing sleep, and becoming easily irritable, occasionally taking the brunt of his anger and disillusionment out on Joe. But Joe continued to stand by Isaiah - he worked with his law firm to switch to part-time so he could be more present to support Isaiah. He picked up Isaiah's prescriptions, and found palatable recipes and natural remedies to help soothe Isaiah's anxiety. In the evenings, Joe would play one of Isaiah's favorite old vinyls on the record player, curl up into bed with Isaiah, and hold him tight.
On these nights, Isaiah would ask through stifled tears, "Do you still love me, Joe? After all of this?"
"Of course I still love you, silly," Joe would reply. "And I'll still love you after all of this is over. You are strong and you will make it through whatever this is," he assured Isaiah.
"I love you so much," Isaiah would whisper with what little energy he had left, the words tasting faintly sweet on his lips.
After three months, Isaiah finally started responding positively to a new batch of medications, and the abdominal pain began to gradually subside. The psychiatrist encouraged Isaiah to challenge his anxiety, and to push himself to try one new activity with each passing day. At first, Isaiah was only able to walk around the apartment in short spurts. Soon, he was able to walk with Joe down all 4-stories of their apartment complex and up and down their block. When they would make it back to the top of the walk-up, Joe would grab Isaiah's hand and raise it high above his head to signify the big win. With Joe's encouragement, Isaiah was even finally able to go out to meals with his close friends again.
Through patience, love, and persistence, Isaiah continued to heal, and eventually worked up the tolerance to trek to Manhattan to take interviews for new job opportunities. On a balmy autumn afternoon, Isaiah received a call from a previous colleague at his old agency who had spun-up a new venture. She offered Isaiah the role of creative director at her new company. He accepted the position, and excitedly shared the news with Joe, who abruptly assembled a celebratory dinner party with their closest friends. During the dinner, Joe raised a toast, and could barely suppress the lump in his throat as he turned to Isaiah and said, "you're the strongest person I've ever known. Cheers to your continued good health, happiness, and success." He kissed Isaiah hard on the mouth. "I'm so proud of you," he told him. The rest of the party clinked glasses around the table, and Isaiah couldn't help but let out a bashful grin, smiling ear to ear.
In the years to come, Isaiah and Joe would travel the world, eager to explore its every crack and crevice with the remaining energy of their youth. On one particular afternoon late in their travels, Isaiah and Joe were walking along the coast of Bondi Beach in Sydney, Australia, when Isaiah suggested to Joe that they start a family when they return home to New York. Joe gleefully agreed, and told Isaiah they would begin working with adoption agencies upon their arrival home to Astoria.
After nearly 20 years, Isaiah and Joe forfeited their tiny studio in exchange for a three-bedroom townhome in Astoria. They adopted twins, a son and daughter, and embarked on the next chapter of their lives, charting new territory into parenthood. While parenting certainly tested the elasticity of Isaiah and Joe's love, through time, they both found an even greater sense of strength and compassion in their partnership. Isaiah and Joe's children grew-up as a byproduct of their healthy love - their children matured into benevolent, thoughtful, and tenderhearted beings.
Shortly after the twins graduated from college and returned to Manhattan to begin their careers, Joe and Isaiah retired. They enjoyed a number of years of peace - still hosting their old friends and children for dinner, venturing to Manhattan to see celebrated Broadway shows, and taking weekend trips to visit national parks to soak-in the quiet outside of the city. As time pressed forward, Isaiah began to notice that Joe seemed to be becoming increasingly forgetful, and would often wake up in the middle of the night confused and disoriented. On one occasion while Joe, Isaiah, and their children were out to dinner, Joe forgot the names of his children as he was telling them goodbye. In the coming days, the family would learn of Joe's Alzheimer's diagnosis.
As Joe's memory receded in the approaching months, his fondest memories shared with Isaiah and their children seemed to converge. Isaiah remained by Joe's side, and attempted to ground Joe in the present as Joe's mind sailed wildly upon sacred memories. Joe's motor skills soon degenerated as well, limiting his mobility to a wheelchair. Isaiah took care of Joe as best as he could - he picked up Joe's prescriptions, took him for long walks around local public parks, and prepared meals for Joe that adhered to a healthy regimen as prescribed by his doctor.
In the evenings, Isaiah would comb through their now colossal library of vinyl albums, and try to pinpoint some of Joe's old favorites to play for him. One evening, Isaiah managed to find Vampire Weekend's self-titled album sandwiched out-of-place between two albums in their library. He pulled the record from its sleeve and placed it on the player, then gently positioned the needle on the outer rim of the record. The room filled with three summery notes from a keyboard, and Joe's eyes lit up as he experienced a divine moment of clarity. "Dance with me," he said to Isaiah. Isaiah took Joe's hands in his, and gently danced with him, back and forth, two old lovers reliving the origin of their love.
The following morning was hot and humid, and filled Isaiah with buoyant nostalgia. Isaiah dressed Joe, fed him a light breakfast, and wheeled him all the way from their home over a mile to the intersection of 30th Ave and 36th Street. After all of those years, the plastic lawn chairs had been substituted for metal chairs and tables outside of a new bakery teeming with patrons. Isaiah wheeled Joe inside and asked the pastry chef on staff if they possessed the necessary supplies to bake a specialty order for the both of them. The pastry chef agreed to bake the custom order, and Isaiah expressed his tremendous gratitude to the kitchen staff before leaving a generous tip.
Isaiah wheeled Joe outside to a metal table, and sat next to him as they began to soak in the familiar summer heat. After a lengthy wait, a server came out with a plate for their table containing two large strawberry muffins and two glass cups filled with black iced coffee. Isaiah broke off a small piece of the muffin and slowly fed it to Joe. Once Joe had finished chewing, Isaiah placed a straw in the black iced coffee, and positioned the straw in Joe's mouth before encouraging Joe to take a long, gentle sip of the beverage. As Joe swallowed the coffee, his eyes filled with tears, as he turned to Isaiah and said aloud with calm assertion: "I think I'm in love with you." Isaiah allowed for a quiet pause to sit between them, before reciprocating with a smile, "I think I love you too."