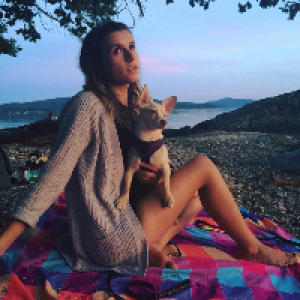 SamanthaFleur
Just a quiet pseudo-mechanic living on a boat with two dogs and one too many thoughts floating around.
La Petite Mort
Isn't it a fragile, desperate thing to love someone?
To be so inadvertently enraptured by someone's mere presense you could watch them for days and still find your eyes soften at the corners when they enter the room.
There is certainly something dangerously reckless about loving. To love someone is to give yourself up to them and absorb the parts of them that no one but you likes, to be those things for them and then still love yourself on their behalf - to show them how it can be done. To love is to be devoted, to be burdened but to not realize it.
It's painfully obvious when you're in love. True love doesn't float down from the heavens and cling to you like a hero's cloak. It's a dirty thing, like bed sheets after a weekend together; wrinkled and pungent, covered in stains. But you know it, it's so deeply familiar that you can identify every last bit of its ugliness and trace it back to happier times that bring delicate smiles to your lips. Delicate, because even as those moments are remembered you realize how fleeting they really are.
No, to love someone isn't poetic, it's not a promise of happiness or glory. To love is to know pain because to love is to inevitably lose.
You will lose.
You do lose.
To love is to know that bliss is temporary, but pain is too.