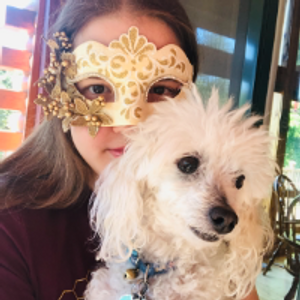 booklover_2020
"It isn't what we say or think that defines us, but what we do." - Jane Austen; 'Sense and Sensibility'
5 Times; Still Yes?
Prompt: "Write about someone who gets proposed to five times on Christmas Eve."
* * *
(Day 1)
The house filled with guests. Brielle placed dishes of food out on a table and organized everything. Her mother stepped up to her, "Bri, darling, go and have a seat! I'll finish this up."
Brielle glanced up at her mother, wearily smiling. "Thanks, mom." She slipped off her apron and rushed up the stairs to change into a dress. Her hands quickly undid her ponytail and she fluffed her light blonde, almost white, hair. She looked in the mirror, her bright blue eyes stared anxiously back, light freckles spattered her nose and cheeks, and her cheeks were pink with excitement, adding color to her creamy white skin. Brielle hurried back down the stairs. She joined the guests, Preston spotted her and gave her a charming smile. She smiled shyly back and could feel her cheeks warm.
Her father stepped up to her. "Hi, dear." He kissed her head. "My coworker's son came to the party tonight... he seems a little...lost and shy. Maybe introduce yourself?"
She nodded, her eyes spotted a young man around her age sitting by himself. Brielle made her way over to him, she sat on the couch, and greeted him. "Hi, I'm Brielle, the host."
He looked up, his bright green eyes studied her. "Oh, hey. I'm Kayson." He stared at her, making Brielle slightly uncomfortable.
She squirmed slightly under his intent, studying stare. His sandy blonde hair sat on his head in a contained, yet curly mass. A curl bounced on his forehead as he jerked his head to the side for a moment. "So, you know my dad.." Brielle started, Kayson seemed familiar to her, but she couldn't quite place it.
"Yeah." Kayson sighed deeply. "He's pretty neat. He always talks about you.. how pret- I mean-" He stammered and his cheeks turned bright red. "How great of a baker you are." He quickly stated, getting tongue twisted.
Brielle blushed slightly, her eyes darted around the room. Preston appeard next to her. "Hey, Miss Clause." He teasingly tweaked her nose.
She blushed deeper, her eyes sparkled as she looked up at him. "Hey, gingerbread man." Kayson's eyes darted between the two, confused. Brielle noticed and stood next to Preston, smoothing out her dress. "Oh, Kayson, this is my boyfriend, Preston. Preston, this is Kayson."
"Nice to meet you." Preston reached to shake his hand. "Ignore our pet names." He chuckled, flashing a smile. "I came up with Miss Clause for Bri here, because of her blonde hair and blue eyes." He gently nudged her ribs. "And she came up with gingerbread man because of my brown-ginger hair."
Kayson plastered a smile on his face and nodded. "Nice meeting you too." He replied. Then abruptly stood. "I better go." He mumbled, his cheeks turning red.
Preston watched as Kayson hurried away to chat with the others. "Nice kid." He commented.
Brielle nodded. Preston grabbed her hand and pulled her over to the middle of the room. Her father pulled away from the middle, as did everyone else. Brielle looked around as a small circle formed in the middle where she and Preston stood.
He smiled at her and released her hand. "Brielle Lyla Farris, we've been in a relationship for over a year." His hazel eyes gazed at her lovingly. Slowly he lowered to one knee in front of Brielle. "Would you spend the rest of your life, married to a man who's grown to love you?"
Brielle covered her mouth with her hands and stiffled a gasp. She nodded, her eyes glistened happily. "Yes, yes! A hundred times yes!" The crowd around them laughed and clapped.
Preston grabbed her hand and slipped the dazzling ring onto her finger. The diamond sparkled in the light. He stood and hugged her tightly. Brielle melted in his hug, her night had become one to forever remember. After several more hugs from relatives and friends, Brielle noticed Kayson standing off to a corner. His cheeks were flushed red and his eyes darted around nervously. Their eyes met and she offered a small smile, he smiled slightly then quickly averted his eyes. She watched as he pulled away from his corner and into the crowd that started leaving. Too soon, the evening ended. Several people lingered for a bit longer and gave both Preston and Brielle hugs and chatted. In moments, everyone was gone except for Preston, Brielle, and her parents.
"Well, better call it a night." Her parents headed to their room.
Preston grabbed his coat and slipped on his shoes. "Bye, Miss, soon to be Mrs. Clause." He tussled her hair lightly.
"Bye." Brielle smiled at him. He left and she cleaned up, slowly she made her way up the stairs and to her bedroom.
As she got ready for bed, she thought of Kayson, his flushed cheeks, his green eyes, and most of all his studying gaze. There was something familiar about him, she thought hard. Her hands ran through her slightly tangled hair as her thoughts tossed around in her mind. Suddenly, it hit her; she sank onto the bed. Kayson was the guy she almost dated in highschool. He had a crush on her and asked to date her, yet she said it'd be better to wait. Her hands shook slightly. Did he still have feelings for her? Her feelings had obviously faded, but seeing how he acted at the party stirred something in her. Brielle sighed deeply, she was in love with Preston, now engaged to him. It wasn't going to change. She might as well forget about her past days with Kayson.
She slid under her blankets and turned off her lamp, she sighed deeply and snuggled up. Tomorrow it would be Christmas Day, she would spend the whole day with her new fiancè.
(Day 2)
Brielle woke up, her vision blurred for a few moments then cleared up. She smiled as she sat up. About a half hour later she was dressed in a red dress, her hair was in place, and she was headed down the stairs. As she got a glass of water, her mother came into the kitchen. "Merry Christmas!" She greeted her mom.
Her mother tilted her head. "Bri, dear, it's Christmas Eve!" She laughed softly. "It does feel like Christmas Day though."
Brielle nearly dropped her glass. "But, Mom, we had the Christmas Eve party last night, Preston proposed to me.." Her voice trailed off.
Brielle's mom, Arianna, looked at her daughter. "Honey, are you alright?" She asked.
Brielle's face turned pale as she looked at her mother. "That means today is yesterday, that means I'm going through Christmas Eve again.. which means that Preston will propose again." She whispered to herself. Another whisper caught in her throat and trailed away, "Which also means that Kayson will be here.."
"Brielle Lyla Farris, are you okay?" Her mother sat her down.
She looked up, "I'll be fine." Her heart pounded. Not only would the party happen again, she would see Kayson again.
Brielle ate breakfast and went through the same motions she did the first day. Her arms stayed busy baking, cleaning, organizing, and decorating.
Finally, the day turned to evening and the house once again filled with guests. Brielle greeted everyone. Preston, hugged her tightly when he stepped in and then excused himself to mingle among some of his buddies. Kayson walked in with another group of people, his movements were slightly awkward and his eyes darted nervously around.
Brielle sucked in a deep breath and strode over to him. "Hey! You're Kayson, right?" She smiled at him.
Kayson nodded and smiled back. "Yeah."
Brielle tilted her head and chuckled. "Kayson Haddison, the guy from West Brooke High.."
His eyes lit up, "You recognize me?" Once again, his eyes studied her intently.
Brielle broke eye contact and felt her cheeks warming, she cleared her throat and spoke. "So, you work with my dad?"
Kayson nodded. "Well, sorta. He works with my dad and I sometimes do help." He ran a hand through his curly mass of hair. "He's talked a lot about you.. I've heard you're a great baker.." He nervously replied.
Brielle nodded and noticed Preston come over. "I do enjoy baking." She stood as Preston joined her side. "This is my boyfriend, Preston. Preston, this is my...er... a former classmate, Kayson."
Preston smiled and shook Kayson's hand. "Nice to meet you." He greeted him.
Kayson's face started flushing red, "Nice meeting you too." He glanced at Brielle then quickly excused himself.
Preston gently brought Brielle into the middle of the room, her heart fluttered as a repeat of what happened the night before took place. After Preston got down onto one knee and spoke his exact same words, "Brielle Lyla Farris, we've been in a relationship for over a year." His hazel eyes gazed at her lovingly. Slowly he lowered to one knee in front of Brielle. "Would you spend the rest of your life, married to a man who's grown to love you?"
Brielle smiled and nodded softly, "I would love to." She murmured. Preston slipped the sparkling diamond ring onto her finger. Again, the evening ended too soon and Brielle said goodbye to her friends. The house grew quiet as her parents went to bed. She climbed up the stairs and got into bed. As she snuggled under her covers, her eyes drooped and she sighed deeply. Her mind wandered and soon she was asleep.
(Day 3)
Brielle woke up the next morning, the sun shone through her curtains and she stretched sleepily. Her legs swung over the bed and her bare feet touched the carpet beside her bed, in no time she was downstairs. Her nose twitched at the smell of coffee, cinnamon, bacon, and pine. "Merry Christmas!" She greeted her mother, hoping a repeat of the day before would not take place. Much to Brielle's dismay her mother chuckled and turned to her.
″Dear, it's Christmas Eve!" Arianna's skirt swirled as she turned to the stove. "Tomorrow is Christmas."
Brielle's small eyebrows scrunched together. "Tomorrow is Christmas." Her throat choked. "If tomorrow ever gets here."
"What was that, honey?" Her mother looked over her shoulder at Brielle.
"Nothing." Brielle sighed.
She went through the same motions as the first day, the only slight difference was Kayson was the first to arrive. "Well, that's a nice change." Brielle murmured to herself as she set the table.
Her mother let the young man in and he followed her in. "My dad said to arrive early." His voice was soft.
"Well, it was nice of you to be the first one!" Brielle's mother let out a gentle, rippling laugh. She hurried back to the kitchen and busied herself.
Kayson smiled at Brielle and took a seat, soon the house filled with guests and laughter. People's voices filled the air, glasses clinked, and the familiar Christmas cheer filled everyone.
Brielle took the same motions as the last two nights, she sat with Kayson and made friendly conversation. This time, his face flushed a deeper red when she introduced Preston. Kayson forced a small smile. "Nice to meet you." He murmured, then shoved his hands into his pockets and excused himself hurriedly.
Brielle almost wished she didn't have to go through the proposal again. For anyone else, it might be a dream come true to be proposed to each night. Brielle only felt frustration creeping in. Preston repeated the same motions as the other two nights. "Brielle Lyla Farris, we've been in a relationship for over a year." His hazel eyes gazed at her lovingly. Slowly he lowered to one knee in front of Brielle. "Would you spend the rest of your life, married to a man who's grown to love you?"
Brielle forced a smile and nodded. "Yes." She spoke quietly. There was less enthuisiasm in her voice. Preston slipped the ring onto her finger and for a third time the night ended quickly.
Brielle trudged up to bed, the diamond ring seemed to be no more than a sparkling rock sitting on her finger. She sighed and crawled into bed. "Please, let tomorrow be Christmas day." Her voice whispered into her pillow before she slept.
(Day 4)
Brielle cracked open her eyes and glanced at the curtains. Her mind swarmed with the events from the night before. She groaned inwardly, remembering the last few days repeated the exact same. Brielle snapped her eyes opened and lifted her left hand, the engagement ring was not on it. "No, no, NO!" She screeched burying her head under the blankets. No engagement ring meant that the day would repeat for a fourth time. Not only would it repeat, the frustration that had grown would soon become unbearable.
Brielle reluctantly got out of her bed and got ready for the day.
Her normally cheerful, bright blue eyes were now clouded with frustration and dull. Brielle huffed and pulled her hair back, she slowly trudged down the stairs and took a seat at the counter.
"Morning, dear!" Her mother's cheery voice greeted her. She turned to Brielle, her skirt swished.
"Morning." Brielle replied, trying to be cheerful. Her mind wandered as she went through the same motions throughout the day, as the last three times.
Too soon, the evening came, the same things happened. Kayson chatted with Brielle easily, too easily. Preston once again came and brought Brielle to the middle of the room.
His eyes shining, he knelt on one knee, "Brielle Lyla Farris, we've been in a relationship for over a year." His hazel eyes gazed at her lovingly. "Would you spend the rest of your life, married to a man who's grown to love you?"
Brielle smiled softly, her heart pounded as a million thoughts swirled through her head. "Yes." She barely whispered the word.
Preston slid the dazzling ring onto her finger. Again, the night ended quickly and everyone headed home.
Again, Brielle went to bed, her hands shook as she slid under her blankets. "Please, please, be Christmas day tomorrow." Tears clouded her vision and she drifted off to sleep.
(Day 5)
Brielle cracked her eyes open, they felt dry. She pulled her hand close and looked at it. "Not again!" She screeched. Angrily, she put on her dress, went down the stairs, and slammed her body onto a chair at the counter.
"Bri, what is wrong?" Her mother asked, turning to face her.
"Oh, nothing and everything!" She placed her head in her arms and drew in a deep, harsh breath. "Mom, I don't know what to do!" Brielle pulled her head away from her arms and looked at her mother.
"Brielle, go outside, take a walk, and breathe." Arianna's voice grew serious. "Come back after you've had a chance to calm down."
Brielle nodded and stood from where she was sitting, her eyes grew watery as she opened the door and slipped her coat and boots on. The brisk, winter air greeted her as she stepped out.
She stuffed her hands into her pockets and walked briskly to her grandfather's home nearby. He was sitting in his rocker on the porch, dressed in a warm coat, with a blanket across his lap. His smile grew when he saw Brielle.
"Bri!" He called, waving.
"Hi, grandfather." She stepped onto his porch and sat in the chair beside him.
"How's my favorite granddaughter doing?" His wrinkled, weathered face smiled lovingly at her.
"I'm.. frustrated." She let out an exasperated sigh that sent a puff of steam into the air.
"About what, Bri?" He turned in his seat to face her.
Brielle rubbed her face gently with her mittened hand. "I-I'm in love with someone but feelings from the past have waken up and...I don't know what to do." She looked at her grandfather. His gray eyes twinkled at her.
"My dear, you must not follow your mind." His voice rasped, he coughed a few times to clear it. "Follow your heart." He grabbed her hand and held it in his.
"But-" Brielle started.
"Bri, my dear, place yourself in the future." His eyes watched her carefully. "Who would you see yourself happiest with?" He continued, "Where would you see yourself?"
Brielle thought carefully. "Thanks, Grandfather!" She jumped up and reached down to hug him and give him a kiss on the cheek. "I gotta go!"
He chuckled. "Bye, Bri." His hand lifted and waved to her as she rushed back to her home.
She burst into the door and stripped off her coat, her cheeks were pink and her eyes had once again raised a spark. Now, she knew exactly what to do that night.
For a fifth time, Brielle went through the motions of the day, finally evening came, guests arrived, and the moment would soon come.
Brielle stayed near Kayson and made easy conversation with him. Preston once again came and led her away from him. His eyes shining, he knelt on one knee, "Brielle Lyla Farris, we've been in a relationship for over a year." His hazel eyes gazed at her lovingly. "Would you spend the rest of your life, married to a man who's grown to love you?" The exact same words spilled from his mouth.
A moment of silence ensued them all. Brielle's heart raced, pounding hard inside her chest. She folded her hands at her waist and spoke softly. "I'm sorry, but I can't say yes."
As if on cue, the guests gasped at her response.
Preston stood, his hands clenched around the ring's box. "What?" His eyes squinted and his face slowly grew red.
"I-I can't marry you." She replied. Brielle felt her cheeks grow warm as Preston stared at her, his mouth dropped open.
"Brielle.. I.." He stammered.
"I'm sorry." She pushed away from the crowd and rushed out the door. The cold air nipped at her nose and heated cheeks. The wind swirled around her, causing her dress to wrap around her legs. As she fled into the icy darkness of Christmas Eve night, Brielle left the party and ignored the calls shouting her name.
Almost 2 years later...
Brielle glanced in the mirror at herself, her white wedding dress flowed in a sparkling trail behind her. She turned slowly, her blue eyes shining like sapphires. In moments, she would walk down the aisle of the church and marry the man she had grown to love.
Minutes later, she was walking down the decorated aisle, everyone stood and watched as she gracefully walked down to meet her groom.
The man's green eyes glistened as he had the biggest smile stretching on his face. His curly, sandy-brown hair sat in an orderly manner on his head.
Brielle's father released her arm and she walked up to the small stage. The pastor stood between them, a large smile also on his face.
The wedding ceremony had just finished and Brielle got into the limo with her new husband. "As much as I hate saying this, I'm sorta glad you said no to Preston." Kayson tweaked her nose.
"I loved Preston, but my grandfather told me to place myself in the future. I couldn't see a future with me and Preston; we were such opposites." She snuggled up to his arm for a moment. "I'm glad you came along when you did."
"Me too." He smiled and kissed her softly on her head.
Brielle smiled as she thought about her future, she had indeed made the right choice, even though it had hurt and been hard. Her grandfather's words rang in her head from a few weeks ago.
"Bri, dear, I can see you love this young man. Your eyes shine when you're around him, your voice grows more cheerful, and your cheeks grow rosy. I believe you followed your heart in your decision to marry him. I'm glad you did."