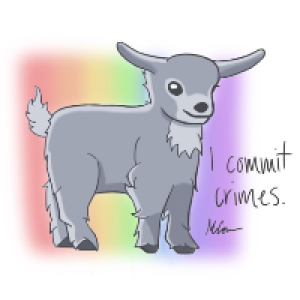 rainandsonder
infp - they/them - 4w6 fiction podcasts (night vale, tma, wolf 359) - indie/alt music - mary oliver & richard siken
recipe to make a little sister (no reposts please!)
ingredients:
-6 cups of her lovely humor: the type that you can't quite find anywhere else. no grocery stores, no niche farmers' markets. the type she has that makes you laugh quietly at your screen at 2:16 a.m. the wry, sardonic brand with just a touch of incredulous that never fails to make everyone smile.
-3 teaspoons of her care and support: the type in which she never fails to show such profound kindness in her support of other people. making sure they know they're well and loved and cared for in the most polite of ways. it's the quiet type of kindness, the gentle one that's not quite so blaring-in-your-face, but rather, the one you take a moment to stop, observe, listen to. it's there, true and strong, and she hopes you know it. the way she cares. she's there to tell you how incredibly bright you are in the most genuine of voices, so honest that you can't help but believe her, and you'll hope she knows you find her the same way.
-2 and 1/2 pounds of charm and cuteness: the type that you hope doesn't get to her head. she has a small, endearing face, and the most loveable of laughs, and these adorable, iconic glasses that frame her face so well. you think she has a natural type of magnetic pull, the type that makes people want to know her better beyond her calm disposition. you think she's cute in that way, amongst so many others. but again, you don't want to overuse too much of this ingredient to let it get to her head. (you want to throw her.)
-endless sticks of her ever-endless talent: the type that you hope she knows is hers and hers alone. and you know it's sometimes human nature to compare, but you hope she knows her talent with the pen and the ink is ever so bright and admirable in its own way. sometimes, you look at it, and you're in awe that anyone could ever write that way. you wonder how to show yourself like her, how to lay yourself on the page like her, how to handle the nitty-gritty like her. you're envious of how effortlessly she spins these words and the depth she puts into your daughters. you think that, even if she's likely shorter than you and younger, you look up to her in these aspects. there is no one in the world who wields the pen like her. she could be the face in a crowd of a million, and you would still look for her. she is brilliant in every right, but mostly, her own. you know she'll stand besides you. she's an icon, already.
instructions for baking:
1 ) and it starts with a "thanks for writing this. names are so significant" and you'll go and say, like the overtalkative thing you are, "thanks so much! do you have an asian name?" and it begins sort of like that, with the exchange of some words over ink. and you think she is ever so talented, a sort of raw, heart-wrenching whisper to her style, that you think: this is the start of something. you hope it is. you think she is brilliant.
2 ) and it really begins with these five boys and talking about privilege in a certain music industry. and it evolves into comment after comment like that, getting to quickly know each other, "what's your thoughts on this?" "oh, I totally agree!" "their comeback is soon!" and there's this memory you think back to, and it's: "hey, is there a name you go by on here? can i call you...Chrys?" and it sticks. and she sticks. and you are glad enough to be worthy of her attention. she's your winged girl, after all. put the crown on your head, adornment to your horns.
3 ) and you are friends now, and you couldn't be more glad of it. there's a ""oooh, Chryssie has a crush?" thrown into the mix. things change, new faces come into play, but you think: she is the constant. she is the brilliant light by my side. i hope she never leaves. you think of her stories, and you are, for lack of better, less cliche word, inspired. she inspires you in so many ways: to push yourself, to dig deep, to lay yourself bare. in the meantime, you get to know her more. she's a little baby. probably short. dry sense of humor, probably likes being mysterious to be edgy, but it's cute. scorpio, infp, she and her mom are from...hubei? she likes pens. she plays volleyball, and wants to get out of her school in favor of a harder one.either way, you grow even fonder of her, beyond her effortless talent, but mostly, for the image of who you think she is.
4 ) and then things migrate. you migrate, too, and the world is spinning ever so fast, and you think you're running along with it and making it speed up. you stay with her, though. and even if she may think you'd outrun her, you wouldn't. not in a lifetime. she's still the same as ever, but even closer now. you and her craft worlds together, and you couldn't be more happy. you're compatible in so many ways, it's like the universe brought you to her and said: "this one. she is brilliant, but you may hope to shine with her." and shine, you hope you do. your styles blend together, apparently, and you love your "children" together. she makes you happy, these late night conversations. you hope you do, too. so even if she thinks you're running, you hope she knows that you'll always be the one running back to her. it's what sisters do.
5 ) and sometimes you think you're too much: too talkative, too overbearing to the point of annoyance, so you wonder, and you grow quiet. but the world still turns, and you hope that is enough to keep you together. and you hope she knows that you'll always be there to run with her. because against all possibilities, you found each other.
"you tell me you like my crown
i respond that we're the only ones that might think that
and wings fanning out, chrysanthemum petals falling from the tufts, you reason: that's what makes us destined
you found me, despite it all, and maybe
the horned girl, with the winged girl
who placed a crown on my head
have found a home already."
"we were one, separate lives same hearts, secrets spilling like gasoline over hands
leave your fingerprints over my eyes so that i may never forget your name 
    'run away with me' "
happy birthday, winged girl. happy birthday to a little sister.