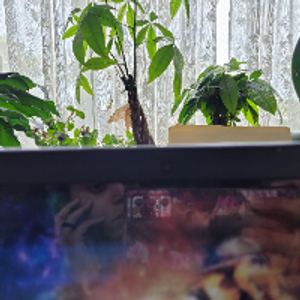 TheWolfeDen
Being waist deep in thought technically means I'm down to earth. That's what I've been telling myself, anyway.
Rob
"Patty, you're the best cook in the WHOLE WIDE WORLD!" Four voices spoke in unison.
Nana Pat looked at me, a twinkle of amusement in her eye. "The boys used to say that to me every night at dinner." She looked over at her husband and sons. "You remember our friend Bob? He just moved in nearby. He said that at dinner the other evening. We haven't seen him in nearly forty years and he remembered you two doing that every night."
I couldn't argue with the sentiment. Pat was a highly successful homemaker. She gathered the plates and headed into the kitchen to bring out dessert. My husband, brother-in-law, and their mother were elsewhere in the house, either reminiscing, cleaning, or keeping the toddler occupied. I sat alone with the the two middle-aged brothers and their elderly father, nursing the final bites of a breakfast casserole.
The father began to ask his youngest son about some upcoming trips. First, business in Hungary. Then pleasure in Key West. As the daughter-in-law to the younger of the sons, I knew the details of this already. I knew when they were leaving, what they planned to do, the souvenirs they wanted to find and when they would return. My husband and I spoke with his parents on a regular basis. It was a genuine two way street of communication. But to the eldest brother, this was news.
"You flying into Budapest?"
"Yeah, yeah."
"What for?"
"Well, the branch in Hungary makes some stuff that we're going to start manufacturing here so I'm going to see their process. Get some training. Things of that nature."
"Key West right after?"
"Yeah, yeah. It's kind of a dream vacation," the younger said, gesturing awkwardly with his hands. There's a place out there where you can rent a sailboat."
The father's eyes lit up at the mention of a sailboat. He and the youngest son discussed boats and techniques. The conversation began to drift, fading into weakening small talk until finally, the table fell silent.
In the few years I'd been around, the eldest of the brothers, his father's namesake, was rarely present for family gatherings. He showed up, stayed holed up in one of the guest rooms. He'd come out to get food or walk his dog. There were no hellos, goodbyes, hugs or gifts. The other family members had a minimal amount of positive things to say about him and very few memories that extended past easily observed behaviors. My first Christmas with the family, I walked past the living room to hear the beginnings of an argument between him and his father. He was childless, divorced, and jumped from job to job. By contrast, his younger brother was in a successful career, a long marriage, a father of three, grandfather to two, and seemed to have a more amicable relationship with their parents.
Pat returned to the dining room to ask if someone would be willing to walk food down to a neighbor. The eldest son offered to do it, as he was planning to go hunting in twenty minutes. He got up from the table and went in the other room to change. Eventually, Pat told him not to worry about it- that she would do it herself. He left shortly thereafter. No extended goodbyes, no well wishes, just a sudden absence. He was not the first to arrive, but he was the first to leave.
I sat alone at the table and watched him leave. I wondered to myself how a family that had once been in such memorable unison that even forty years later, it rang with clarity through the haze of memory could have become so tense and so separated. They'd known each other their entire lives and spoke as if they were acquaintances forced to sit together at a formal banquet. I took a mental note, rose from the table and headed into the kitchen to see if Pat needed any help.